(10-way tie for #55)
10 points, 1 vote
Brilliam: This game is like a Basement Jaxx record: familiar, but so over-the-top noisy and fun and colorful and explosive that you can't help but shake your ass with excitement every time you put it on. Space Invaders Extreme, perhaps even moreso than Pac-Man Championship Edition of last year, nails updated retro gaming.
cozwyn: Distracting and fun!
jamescobo: 2008 might be an even better year for remakes than for "new" games.
JimD: It's fantastic! Space Invaders in a Rez style with a complex and addictive combo system and fun weapon power ups. Bizarrely addictive and highly recommended.
15 points, 1 vote
Jordan: Broken Steel adds a "Puppies!" perk so that if your dog gets killed you can just grab a new one from the litter.
Goole: BS raises the level cap to thirty and extends the main story. If you're gonna get only one bit of DLC for Fallout, I'd get this one.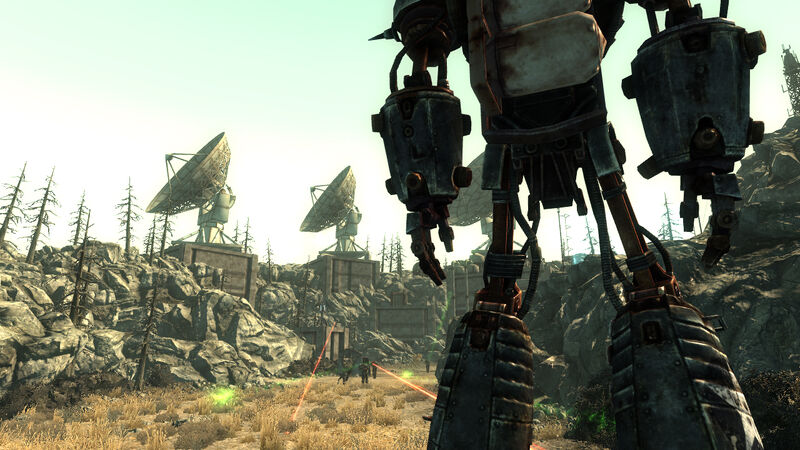 MH: I'm amazed by the power of the Tesla Cannon; it completely sucks in a close-quarters firefight but if your character stats are reasonably high, you can pick off Enclave guys from what seems like a half mile away.
CraigG : Fallout was the game I played most in '09, but it's an '08 game. Hooray, then, for the DLC. Broken Steel was a good, tight bunch of missions with a fairly linear story line which would normally be a bad thing, but I think it's exactly what the DLC needed to be. I think it was made all the more enjoyable because it raised the level cap, so your character was leveling up, plus you are killing so much enclave that you just keep filling your pockets with great armor and guns. I did have a few embarrassing moments though where I would be repairing my armor with some newly acquired armor and end up with my dude running about in his pants for a while accidentally, but I think that's a Fallout staple. My only criticism of this expansion was the albino radscorpions.